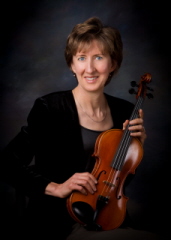 Jane Singhal holds a B.A. in music from Yale and an M.A. in Russian Studies from Princeton. Jane began her violin studies with Dr. Seymour Rubinstein at Indiana University South Bend. At Yale she studied with Kikuei Ikeda of the Tokyo String Quartet and subsequently in Canada with Dana and Yuri Mazurkevich, students of Russian master David Oistrakh. Jane was concertmistress of the Midwest Chamber Orchestra and director and violinist for Interlude, a New Jersey-based chamber ensemble.
She has performed as a soloist with the Twin Cities Symphony and participated in the Yale at Norfolk Chamber Music School, the Sarasota Music Festival, and the Shawnigan Summer School of the Arts in British Columbia. She is the author of Creature Feature-A Musical Menagerie, and the producer of the CDs Miss Jane's Children and Classical Tales.
Jane began her teaching career as violin instructor at Ecole Alexandra in London, Ontario and as a language and string specialist at The Vail-Deane School in Mountainside, New Jersey. Since relocating to the Bay Area, Jane teaches select students at her studio in Belmont, California.
Violin Performers Studio. Drawing from the American school of violin pedagogy, Jane combines highly individualized teaching with a holistic approach to practice and performance that allows student to make dramatic progress on the instrument. Studio students are devoted to the violin, dedicated to achieving excellence in their playing, and excited about tackling the great works of violin literature. Acceptance to the studio is by audition only.
Demonstration Videos. The demonstration videos on this website are from the preparatory violin repertoire for students. It is often difficult to find good performances of this music--sometimes only an audio recording is available with no video, or the video recording is of a very young student playing. Sometimes there is no performance available at all. These videos were recorded to give students the chance to hear the sweep of a piece, accompaniment and all, before learning it. Tempo adjustments, cuts, or use of an upper octave are occasionally used in the demonstrations to make the music more enjoyable for violinist and listener.